Online-Marketing
Your agency for digital advertising.
Good online marketing wins the battle for attention. How? With a finely tuned online sales machine consisting of display and social media ads, professional SEA and SEO, and email marketing.
Online Marketing Agency with Measurable Success
What makes us one of the best online marketing agencies in Vienna is our experienced digital marketing team. With a well-developed skillset, it provides our customers with comprehensive support from strategy and creation to media planning, implementation, and monitoring of online campaigns. The close exchange with other FONDA experts – in UX, UI, web development, e-commerce and content – makes us unique.
This highly specialized team includes strategists, media planners, data analysts, conceptual designers, copywriters, designers, and programmers. All these specialist areas have to work together in order to get your message across in the flood of information through effective and data-oriented digital marketing.
A Sales Machine with Full Cost Control
We build a flexible online marketing system for our customers, a kind of sales machine that is fed with (controllable) media spending and then reliably generates sales (or other desired conversions).
We can promise that because we track the effectiveness and efficiency of every type of online advertising, every channel and every advertising medium right from the start. We continuously optimize advertising material and the channel/media mix in order to achieve the best input-output ratio.
When you run an online campaign with FONDA, you can see the impact of your digital marketing expenses at any time. This gives you full cost control and the ability to flexibly scale your online marketing activities.
Marketing Cloud and Marketing Automation
If you want to get really involved in online marketing and bring together sufficient volumes, you actually need a marketing cloud or a marketing automation tool to be able to track and manage (almost) all online channels via an integrated platform at any time.
With such a solution, some online marketing activities can even be fully automated, such as sending an email that is triggered by a defined user's behaviours.
We are happy to support you in the implementation and introduction of a marketing cloud, based on HubSpot or salesforce for example, and the development of a marketing automation concept.
It's all in the Mix when it comes to Digital Marketing!
Depending on the target group and objective, a different mix of online media channels is suitable. We achieve the optimal media mix by optimally coordinating online channels such as display, social, newsletter, SEA, both with each other and with offline channels (such as print, OOH, radio, TV). Last but not least, of course, the company's own platforms, its own website or landing page for example, must of course also play their part.
Search Engine Optimisation (SEO)
Good online marketing begins with a website or an online shop being found in "Google Search" or "Google Maps". This creates organic traffic and is a basic requirement for efficient online marketing. We are happy to support you in all aspects of search engine optimization.
Search Engine Advertising (SEA): Often the Most Efficient
Users searching for products or services that you offer can be reached very well with search engine advertising, especially "Google Ads". Apart from SEO, such ads are often the most efficient – and cheapest – method to get qualified traffic to a landing page or an online store. We support you in the planning, implementation and success tracking of your SEA measures.
Landing Pages with a Wow Effect
The percentage of visitors who actually do what you want them to do (buy your products, for example) depends to a large extent on the landing page, i.e. the page the user arrives at after clicking on a link. We design and build conversion-oriented landing pages, track their performance and continuously optimize them.
Social & Display Ads: Where Users Converse
YouTube pre-rolls, Instagram stories, Facebook ads or classic banner advertising in online magazines: depending on the target group and objective, we select the right channels and formats and continuously optimize the mix.
We always adapt the advertising media to the environment and, especially for social ads, use extensive targeting options such as geo, behaviour, context, demographics, etc. to keep our customers' online marketing effective and efficient.
Coordination with all Content Marketing Activities
The entertainment factor is crucial, especially with social ads. Ideally, advertising should not come across as advertising, it should be perceived as valuable content. Another important consideration: all social advertising activities should go hand in hand with other social media and content marketing activities such as your own Instagram account or a blog.
Email Marketing: Added Value brings Effectiveness
There's life in the old dog yet. This is also true of email marketing. And now, more than ever, newsletters are a powerful tool. We support our customers in the conception, implementation and continuous optimization of all email marketing activities. Depending on the requirements, we use different state-of-the-art tools.
As long as a B2B newsletter offers a recipient added value, for example, they won't unsubscribe and will be reminded regularly about the company. The added value does not necessarily have to have anything to do with the company's product offerings, but can take many forms (e.g., a funny cartoon).
Careful tracking, which also takes activities on landing pages into account, and newsletter mutations differentiated according to target group segments, significantly increase the success rate of e-mail marketing activities.
In the Beginning there was the Idea
No matter how good the analysis, the strategy, and the monitoring, the idea is still the strongest element. Or to put it another way: nothing works without an idea. Our conceptual designers and copywriters develop strong ideas tailored to the target group that attract attention and stand out from the stream of information.
Plan Well and Constantly Optimize
1.
Briefing, Analysis and Online Marketing Strategy
At the beginning we define the objectives (including KPIs), the target groups, the core messages and the strategy together with you.
2.
Based on the defined parameters, our creative people work out several approaches, which we discuss and select with you - and ideally with target group representatives.

3.
Media Planning / Media Mix
In the next step, we make a pre-selection of the media mix (SEA and social, for example) that can be used to achieve the campaign goals.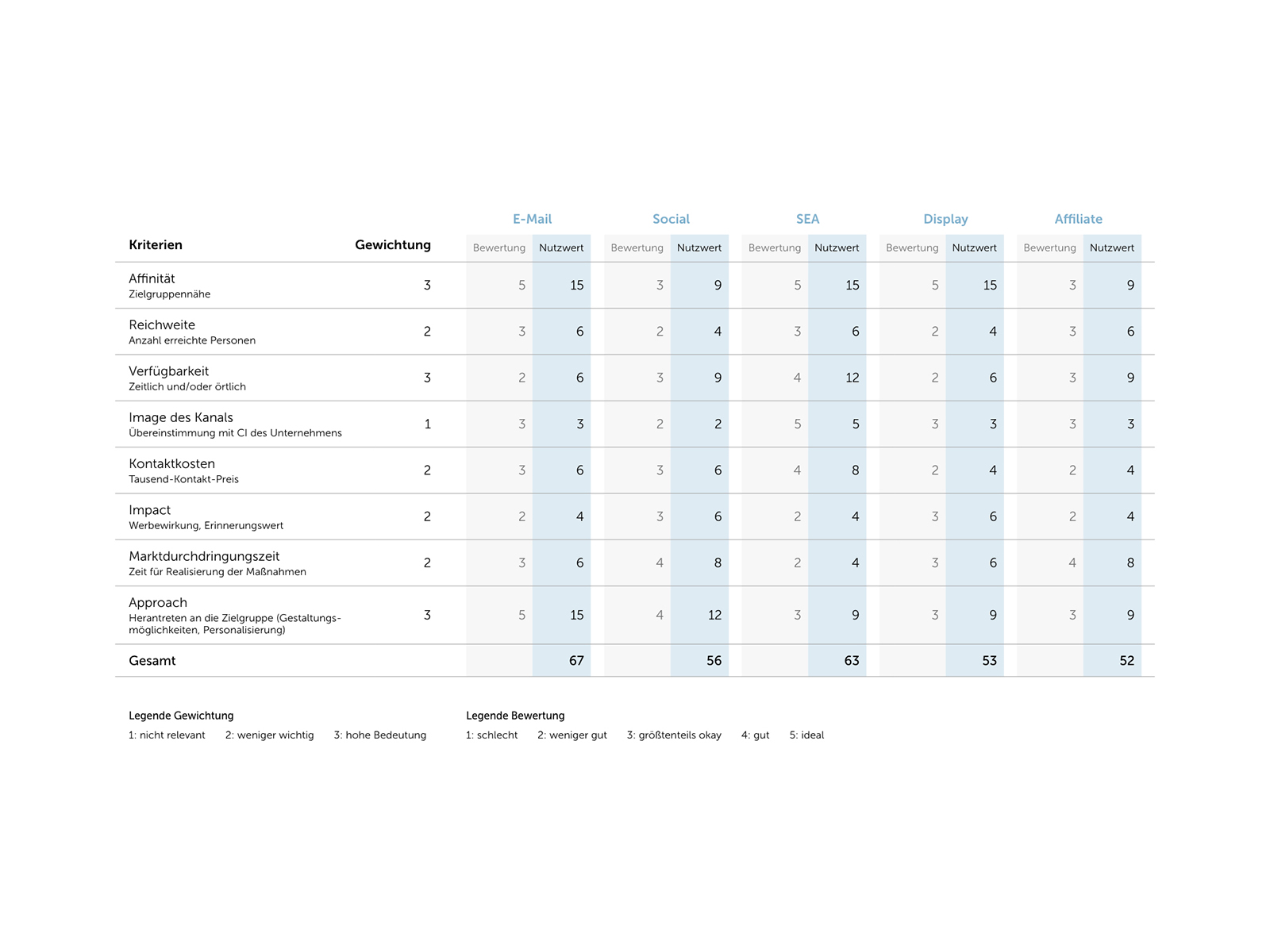 4.
Implementation of the Campaign(s)
During implementation, we set up a sophisticated tracking system and then launch the campaigns. We usually use several variants of advertising media (A/B testing).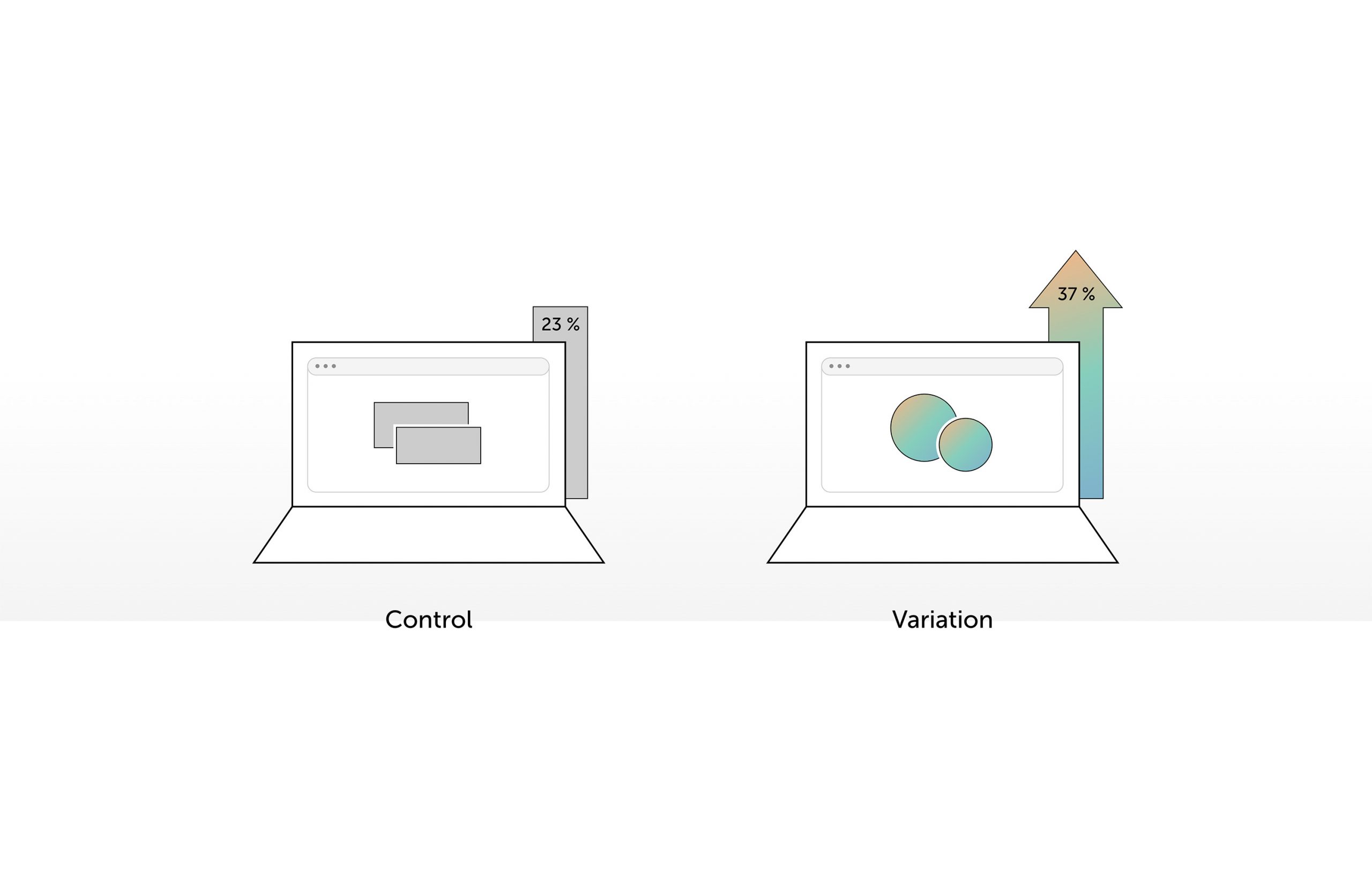 5.
For maximum effectiveness, we calibrate the media mix on an ongoing basis and continuously optimize the advertising media based on end-to-end tracking that matches the defined KPIs. The key question here is: which channel or which advertising medium generates the most sales?